If you are new to my blog, welcome!! If you have been here before, thank you for visiting again!! Today I am very glad to be participating in the bi-annual online Quilt Festival hosted by Amy's Creative Side.
All around the web, quilters will be posting pictures of a quilt they have made and sharing the story behind it. They then post the link to their quilt on Amy's blog, and are entered into a drawing for a chance to win some pretty fabb-o prizes from Amy's sponsors. I am happy to say that Dewberry Lane is one of Amy's proud sponsors!
We have donated 2, $25 dollar store gift certificates, which you could win! Just visit Amy's blog to see all the details.
Dewberry Lane is a brand new online store that specializes in all your non-fabric quilting needs. May is our Grand Opening month! We are hosting all kinds of giveaways around the interwebs, so if you want to be kept up to date on those, be sure to follow this blog.
We also have a newsletter that helps keep you up to date on our specials and new items in the store. You can sign up for the newsletter on the left-hand side of the store itself … (Click here). All of our newsletter subscribers are automatically entered into a monthly drawing for a free pattern every month, so be sure to sign up for a chance to win!
We also have a coupon code that is good for 10% off! Just use Festival when checking out.
Now on to the good stuff! My quilt.
This is a very special quilt to me. I normally only make quilts for my husband and my son, so there aren't very many chances to use pink. When I won this stunning Riley Blake fat quarter pack from Stash Manicure, I knew I had to make something special for myself.
Finding just the right pattern to show off those fabrics was not easy. I have been saving this one in particular pattern in my files for some time now. It is a free pattern from Ashley of Film in the Fridge called Unfurnished.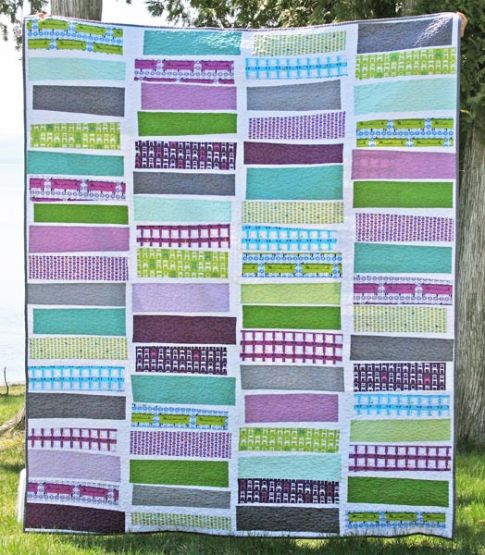 It had all the elements I wanted, a little bit wonky, easy to make, and it would show off the fabrics perfectly. I was able to whip this quilt top up in less than 2 days. Here is the finished top:
With the leftover fabric, I even made a few little bags to hold some Halloween treats.
It took me about 4 months to actually do the quilting on this top. I had it on my longarm, but I just didn't have the time to actually finish it up. In February, I finally said enough was enough and I chose a simple quilting pattern, which finished up in less than 2 hours. I just chose to do lines of loops for this one. I really like how it looks with the vertical dimensions of the top.
The backing was a beautiful sheet I found at the thrift shop, I love this fabric so much. I think it fits the quilt perfectly.
I only got to use the quilt for about a month before my son claimed it as his own. He has an obsession with blankets and quilts and isn't too picky about what they look like. Unfortunately he also decided to use a marker one day and left the cap off right on my quilt. So now I have these lovely red splotches of marker on my quilt. Luckily it's washable marker, so it should come right out (I haven't had time to actually do it yet), but it makes me cringe every time I look at it.
I hope you had fun looking at my quilt. Be sure to hop over to Dewberry Lane and sign up for our newsletter to be entered into our monthly drawing for a free pattern! Don't forget to use the coupon code Festival while you are there, to get 10% off.
Happy Quilting!
Rachel